Are You Looking for an AI Tool that Will Assist You with Your Writing but don't know what to pick?
Introduction
Every marketing strategy relies on content.
Without content, you can't build your brand and create a loyal following.
But, there's a problem.
Creating high-quality content is hard work.
Writing something that will capture your audience's attention and keep them coming back for more takes time and effort.
But content writers have it good nowadays with a plethora of options. There are a staggering variety of tools out there, to help them do their job better and faster, with new ones emerging all the time. While some are more useful than others, they're nearly all trying to solve the same purpose- to make content writing easy and more efficient in some way.
AI is one such addition that has made its way into the content writing tool marketplace, providing content writers with even more powerful tools.
Artificial intelligence is changing the way we interact with technology, and it's starting to make its way into our lives in more ways than we ever expected. It's not just Siri that can understand what you're saying, but also several other services are using AI to help us out.
The same thing is happening in content marketing. We already have some great AI content writing tools that allow you to create high-quality articles.
AI is a game-changer in the content creation space. It's not just about making your content highly engaging, but also about saving you time and money.
It will ensure that your website has enough relevant content. Artificial intelligence (AI) is a tool, not a replacement for human intelligence.
Writing is one of the most time-consuming tasks, especially if you're doing it regularly. If you want your content to be high quality and relevant, you need to spend hours researching the topic, writing several drafts, and then editing them several times. On top of that, you have to do this with every new article or blog post you publish!
With AI content writing tools, this process becomes much easier and faster. You just need to enter your idea. It will handle everything else: from research to writing a complete article or blog post.
Are You Looking for a Tool that Will Assist You with Your Writing but don't know what to pick?
Are you looking for an AI writer to help you with your content – that will do everything from researching to writing and proofreading.
Here are some of the Best AI Writing Tools that allow you to create high-quality articles without writing them yourself.
1. Jasper
Formerly known as Jarvis, Jasper is the best AI writing assistant software due to its exceptional features and quality. After receiving expert training, Jasper can create attention-grabbing content to entice your viewers.
It is an excellent tool for anyone who needs assistance creating content or scripts, from writers looking to expand their platform through email list building to small businesses looking for a readership. It has a "Boss Mode," which allows you to create long-form content. It is the software you should use at work to create unique content that ranks for SEO, improve ad conversions with good copy, overcome writer's block, and numerous other tasks.
Features
Long-form document editor – a powerful tool for writing complete documents
Speed writing – press the start button, and the software will create a masterpiece for your blog post or article in minutes!
SEO Surfer – a keyword analyzer and optimization tool.
It can almost write your complete articles for you if you give it enough parameters.
Plagiarism detector – write without fear of being accused of stealing someone else's work.
Multiple languages
All types of content like novels, blog/articles, video scripts, and more using Jasper
Pricing:
Starter Mode: Starts at $29/mo for 20,000 words/mo.
Boss Mode: Starts at $59/mo for 50,000 words/mo.
SEO Surfer add-on: starts at $59/mo
2. Copysmith
Copysmith, an AI writing assistant software, is another excellent product on the list. You get more than you expected because of its many rich features.
The platform provides several tools to assist users in creating various types of content, the most popular of which is the article builder, which lets users create articles from scratch.
It offers clients a wide range of content types which includes blog posts, landing pages, sales pages, and webinars.
The tool employs artificial intelligence algorithms to generate unique text in the user's writing style. It ensures that your campaigns are effective, for your clients and for you as a writer. Copysmith makes it simple to create high-quality content in any language.
Features
There are templates to suit almost every need.
Built-in integrations to assist you.
Effective software for creating, organizing, and editing copy all in one place.
Excellent service at an affordable price.
Pricing
Starter: $19/month
Professional: $59/month
Teams: $118/month for 2 users
3. AI Writer
A Writer is a content writing tool that uses artificial intelligence to write content for you. It can write blog posts, e-books, press releases, and more. It also does so in virtually any language and for any industry. It'll even adapt its writing style to suit your target audience. AI Writer works by analyzing data from other pieces of content to build "a knowledge base" and uses it to create new pieces of work. The more data that is available, the better AI Writer gets at writing top-quality content quickly and efficiently by using its artificial intelligence algorithms.
It means no more low-quality work taking up valuable time!
Features
With a patent-pending algorithm that ensures each text is unique and original, it ensures the quality of your content.
There is no longer a need for SEO experts. All content is SEO-friendly by default.
With these full-length articles, you'll never run out of article topics.
Each point has citations so that you can deliver accurate, high-quality content.
Save money by not having to go online and look for the perfect article template.
Pricing
Basic: $29 per month
Standard Plan: $59 per month
Power Plan: $375 per month
4. Articoolo
Articoolo is an AI-powered writing assistant software that helps you create original content quickly. They're making a name for themselves in the industry and are a great option for WordPress users.
If you don't want to use Google Docs, they have a WordPress plugin that allows you to easily rewrite 500-word articles.
Features
Extracts relevant data from your post, recognizes keywords and sentiment
Based on a few key terms, the content algorithm can determine the context of an article
Using natural language processing (NLP), it reconstructs the article with relevant material and keywords
Pricing:
5. Grammarly
Grammarly is a writing and grammar tool that can help you correct your mistakes. It works in the background while you write, checking your grammar and spelling. It will also help with other writing issues, like word choice and style. Grammarly is free to use, but if you want additional features such as plagiarism checks or access to more advanced options like sentence rephrasing (which changes the order of words in sentences), there's a paid version available.
Features
Grammar checker – eliminate grammatical errors.
Punctuation correction – get assistance with all of your punctuation requirements.
Style recommendations – enhance the overall tone and style of your writing.
Integrates with several platforms, including Google Docs
Proofreading
Editor of long-form content
Pricing:
Free
Premium (for individuals): $12.00/mo
Business (for teams): $12.50/mo
6. Articleforge
ArticleForge is a free online tool that can help you write your article or blog post in just a few minutes. The best part about this tool is that it's available in multiple languages and topics, and you can use it for any type of content written on any subject.
ArticleForge allows users to create an article from scratch using the services provided by its website.
Because deep learning is used instead of scraping, the content on Article Forge is guaranteed to be unique. It generates original, high-quality content to aid in search engine optimization.
Features
Generates content in multiple languages
It is the most cost-effective tool for simulating a human mind and writing style.
Pricing
Standard: $27/month – 250,000 words/mo
Unlimited: $57/month
7. Copy AI
If you're looking for a creative content writing generator, CopyAI might be the best option. It can help you think more creatively while producing high-quality marketing text or content.
With its numerous automated creativity tools, it aids in the removal of writer's block. It also provides a variety of AI-created templates to assist you in getting started on your project.
Features
You can generate a copy using over 100 templates.
The interface is simple to use.
Capability to write digital ads, social media content, website copy, eCommerce copy, blog content, and sales copy
Multiple languages
Concentrate on your intended audience.
Pricing:
Free Plan
Pro: $49/month
Team: Custom Pricing
8 . WriteSonic
Writesonic is ideal for marketers, digital agencies, and e-commerce businesses. If you need to write product information, landing pages, or even email text, this fantastic artificial intelligence writing software simplifies the process and saves time.
It will create blog posts, social media posts, press releases, and marketing copy a breeze. It can also generate hundreds of Google, Facebook, and LinkedIn ad variations quickly and easily.
Features
Within no time it generates high-quality marketing materials for your company.
In seconds, an auto-generated blog post and optimized article.
With a few simple clicks, it generates powerful marketing copy.
Pricing
Free Trial: $0
Basic: $15/month
Professional: $45/month
Startup: $95/month
Agency: $195/month
9. AutoRewrite
AutoRewrite is an AI content writing tool that creates unique and compelling content from scratch. It uses artificial intelligence to generate original, high-quality text by analyzing your existing content. The software works best if you provide a large body of existing content and allow it to analyze the style, tone, and voice of your writing to create new material.
Features
Create new articles from scratch using the AI engine.
Enter keywords into a form field on the AutoRewriter website and click "Create Article!"
Generate unique content from existing articles/content sources through its automated analysis process
Pricing
10. Outranking
Outranking is a 10X faster writing assistant that uses search engine results to assist authors in creating outlines and briefs. In response to the highlighted snippets, as well as creating and optimizing content for maximum search engine ranking potential
Features
simplified content creation
engaging content for websites and social media platforms
automated processes and step-by-step instructions
It can support a wide range of use cases,
constantly adding new capabilities to remain competitive.
Pricing
10. Frase
It's a fantastic AI tool for long-form writing. It has numerous features that make it an effective content creation tool.
Features
Google Search Console integration
Document editor version control
Undo/redo buttons are missing from the other tools! You must use keyboard commands.
PDF, HTML, or Excel export
Pricing
Basic: $44.99/mo
Team: $114.99/mo
Enterprise: Contact
11. Surfer
It assists you in creating SEO-optimized content, crawling the web for content ideas, and quickly beginning to rank in search engines.
Their document editor makes it simple to copy and paste directly into your website content management system (CMS) without the need to reformat it.
Because their document editor already includes all of the HTML tags, you only need to format it once.
Features
Organize your content and writing tools.
Create an AI outline with distinct headings and paragraphs.
Write with guidelines and get content suggestions from the content editor.
improve existing pages
boost your website with content improvement suggestions
Surfer Academy –On-demand and live training
Find the keywords that will help you rank in search engines.
Pricing:
Basic: $59/mo; $49/mo annually
Pro: $119/mo; $99/mo annually
Business: $239/mo; $199 annually
12. Rytr
Rytr enables you to create outstanding content. Rytr AI software is used by thousands of bloggers, copywriters, and marketers worldwide.
Rytr's algorithms are honed using historical data. They produce unique and compelling articles with the appropriate tone and style while remaining grammatically correct.
Features
Character count, word count, and tone checker make it simple and quick to create content.
Plagiarism detection ensures that your content is of the highest quality.
Form Generator allows you to add a professional touch to your content.
Pricing
Free Plan
Saver Plan: $9/month; $90/year (Get 2 months free!)
Unlimited Plan: $29/month; $290/year (Get 2 months free!)
13. Sapling
Sapling is artificial intelligence (AI) writing assistant program. for customer-facing teams. It allows sales and customer service teams to write and send personalized responses to customers.
Features:
A machine-learning algorithm detects linguistic difficulties and typographical errors.
AI-powered autocomplete can detect and correct linguistic errors.
Pricing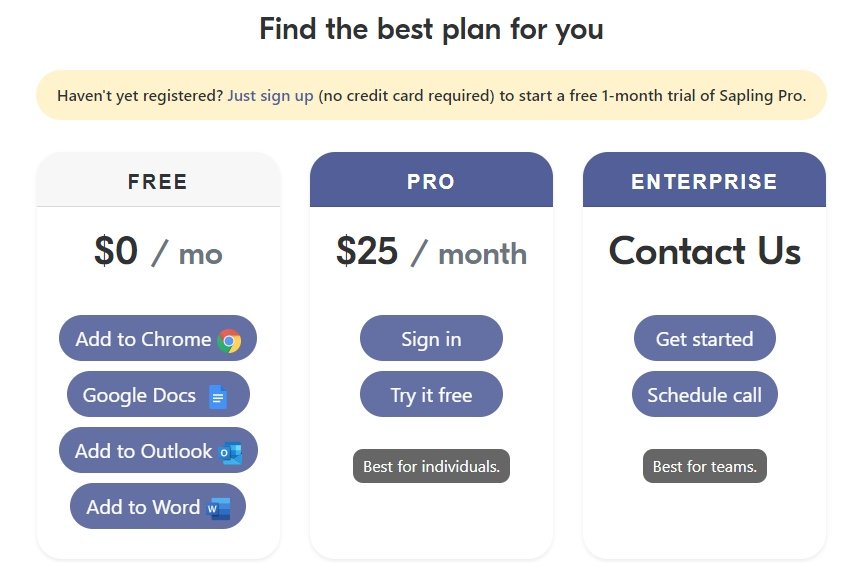 14. Wordtune
Wordtune provides a browser extension and a long-form document editor to help you write. It's an excellent choice for AI novel writing software for those who want to self-edit their writing.
Features
Alter the tone of your text.
It can rewrite content.
Increase or decrease the length of your content
Proofreading
Pricing:
15. InkForAll
Ink for All is artificial intelligence writing software that allows you to "communicate with purpose." as per their website. It serves as a text editor as well as a browser extension. Providing writing assistance tools that enable anyone to create high-performing content
Features
AI writer
Paraphrasing features
Headlines optimizer feature
Pricing:
No free plan
Starter: $8.80/mo
Pro SEO: $44/mo
Team SEO Unlimited: $177/mo
Artificial intelligence is going to have a big impact on writing
AI writing tools are the future of writing.
Artificial Intelligence (AI) has already made its way into many aspects of our lives, and now it's time for AI to take over another industry: writing.
It is not a new idea—there have been several attempts to produce this kind of tool in the past, but today, there are more options than ever before.
Why do we need AI content writing tools?
The answer is simple: AI content writing tools are the future of content writing.
They can save time
 They can save money- one AI can do the job of many writers
They can increase the quality of your content
AI allows us to write better and faster.
It will help us find better keywords and topics for our content.
It will help us find a better structure for our articles to make them easier to read and digest.
Conclusion
Content writing is a big part of the online marketing world.
It drives traffic to your website and makes people come back for more.
But the process of creating content can be time-consuming and repetitive, especially when you're writing copy for multiple platforms (like blogs and social media).
Luckily, these AI writing tools can help make this process easy—and more efficient!
With these tools, you'll be able to create great content without spending so much time on it.
You'll have more time to focus on research or improving your SEO strategy. These tools will help you write better content faster!
The world of content writing has never been so exciting.
One expects to see some exciting developments in the field over the next few years as these tools become more advanced and more widely used,
Artificial intelligence is already changing the way we do things, and content writing is no exception.
Artificial intelligence has come a long way in recent years.
It is an exciting time for content writers and artificial intelligence. Many of these tools are still in their infancy, and there's plenty of room for improvement. The potential benefits to the writing process are huge, and one can't wait to see where things go from here!