People require time and attention to like your items. Advancing your business concept takes time. You must win over customers by allowing them to learn much more about whatever you are providing.
Writing compelling content and then posting it on numerous platforms for your target consumers will significantly assist you in the process. The material will reach your prospective clients and establish an image of your market presence. Consistency in developing and posting content might help you create brand awareness quickly.
"Content is the reason search began in the first place." -Lee Odden
Nowadays, content writing relates to the procedure of conceptualizing, developing, and producing digital content. A content writer might well be asked to advertise and modify their work. Content creation is an inbound marketing method that employs material to direct customers to a particular company, product, or website.
The world's top content writing companies are mentioned below. We've all heard that content is king; it's the most crucial factor in a webpage or company's digital presence and social media exposure.
Just like 12 months, the 12 zodiacs, and the 12 stations of the Moon and of the Sun, we are presenting you with the 12 best companies for content writing!
Pepper content
Write right
Brafton brand point
Writer access
Hippo thinks
Bloggism
Goodman lantern
Das writing services
Content writer
Estorytellers
Text workers
Content grow
In these 12 companies let's start with the oldest form of writing, yes that means paper. But pepper content is doing digital marketing, that's a different matter!
Rishabh Shekhar and Anirudh Singla have developed one of India's biggest companies, which connects authors, editors, and brands under one banner. This content writing firm in India claims to have onboarded 999+ clients in only a few years. So far, over 49,000+ freelancers from all around the world have applied to contribute content. They also provide podcast services and articles!
Main services include:
content marketing, video editing, paraphrasing, content writing, graphic designing, website content, social media content, web blog writing, and language services.
Significant clients: Swiggy, cars24, id fresh food, HealthifyMe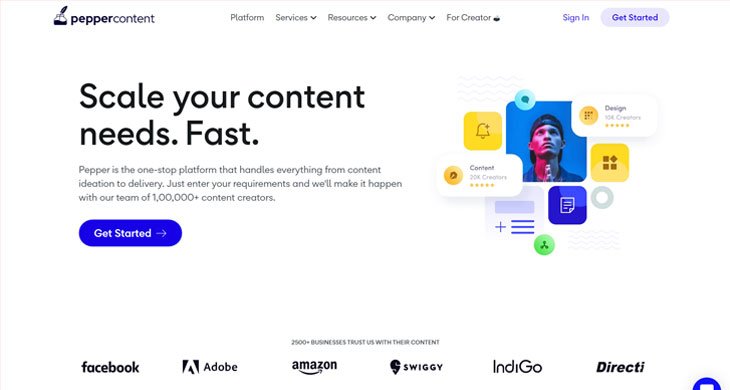 About the company:
Founded: 2017
Employees: 51-200Trustpilot rating: 4.0 out pf 5.0
Headquarters: Mumbai, Maharashtra
Contact: support@peppercontent.in
Website: http://www.peppercontent.io
The Gujarat-based firm offers full-service article writing solutions. They provide high-quality papers within the time frame specified. This content marketing service is focused on producing the most unique content for any requirement. As stated on the internet, they simplify the language wall and create a productive environment. This is what it means to be of high quality. If you want high-quality content for your company, this is the place to go. You can see here how write right prioritizes quality over anything else.
Main services include:
Technical writing, content writing, creative writing, guest posting, slogan writing, resume writing, ghostwriting, Significant customers: airbex, infocampus. techinasia, yocket, Edvista, Dighealth
Social presence:
Twitter: https://twitter.com/bk_sarkhedi
Linkedin : https://www.linkedin.com/in/bhaviksarkhedi
1000+ online testimonials: www.link.ee/write_right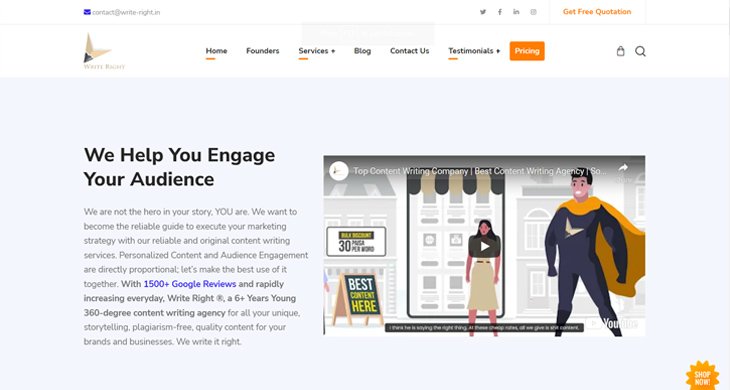 About the company:
Brafton is a content development agency that can help your company grow and get results through content marketing campaigns. They create written material, video content, and eBooks. If you're looking for a content development agency that fosters a collaborative atmosphere and a customer-centric approach, this is the place to be. They conduct their operations with creativity, pride, innovation, dedication, respect, confidence, and professionalism.
Main services include:
content creation service, content marketing strategy
Social presence:
Twitter: https://twitter.com/brandpointco
LinkedIn: https://www.linkedin.com/company/brandpoint/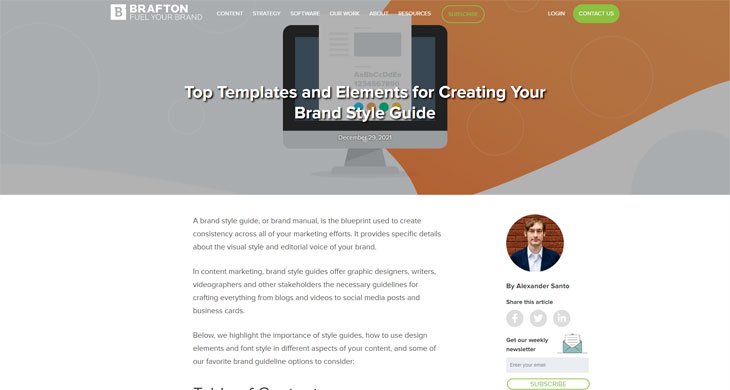 About the company:
Headquarters: Boston, MA
Founded: 2008
Employees: 250–999
Contact: https://www.brafton.com/
reviews: 4.7 out of 5
Website: https://www.brafton.com/
WriterAccess is a multi-award-winning online marketplace that connects organizations with experienced writers. WriterAccess provides blog content, white papers, and other material published by authors in the US. Clients may choose from two-star to five-star content writers at the service, with higher-rated authors costing more.
Main services include:
Translators, Copywriters, Blog writing, Content Marketing, Content Strategy and Analytics, White Paper, Freelance copywriters, Article Writing, and Product Descriptions.
About the company:
Founded: 2008
Employees: 11-50
Contact: https://www.writeraccess.com/contact-us/
reviews: 4.0 out of 5
Website: http://www.writeraccess.com/
Hippo Thought is a content marketing agency that provides company executives with well-researched materials. It was founded in 2014 in California, and it provides a variety of content forms such as white papers, talks, blog entries, and proposals.
For decades, they have been at the vanguard of this shift. This is accompanied by an awareness of the approaches and intricacies involved in developing a relevant presence and engagement with stakeholders in today's marketplace. If you need a professional writing and academic research team, this is the place to be.
Main services include:
Content marketing guides and tips
Social presence:
Twitter https://twitter.com/hippo_thinks
LinkedIn https://www.linkedin.com/company/hippo-thinks/
About the company:
Founded: 2014
Employees: 11–49
Contact: https://www.hippothinks.com/contact.html
reviews: 4.8 out of 5
Website: https://www.hippothinks.com/
Bloggism provides competent and cost-effective article writers for each task. Simply select whether you want a writer to work on an hourly or fixed-price basis, review your profile, and your writing is ready for competitive writing.
Bloggism collaborates with its clients from start to finish, creating, designing, and distributing complete content solutions. This is an excellent environment for self-starters with a desire to work. Their written content results in conversions, more income, and improved search positions (for online marketing). It is a well-regarded website in the business.
Main services include:
SEO optimized content, branded content.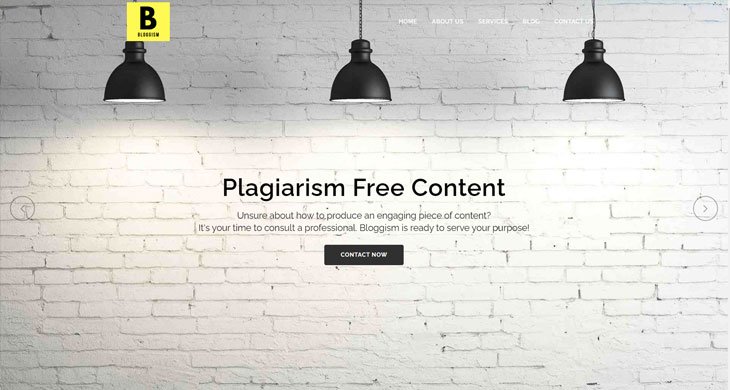 About the company:
Goodman Lantern specializes in developing content that helps firms sell more effectively and expand quicker. The team comprises native English speakers with highly desirable content marketing skill sets ranging from strategy and planning to distribution.
They assist customers in establishing themselves as leading experts in their industries by inspiring and converting storytelling. Customers may then create trust with their audiences and organically expand their business.
Main services include:
SEO Optimised Content, content writing, content planning, SaaS content writing, proofreading and editing, content execution, whitepapers, podcast writing, articles, blogs, and telecom content writing.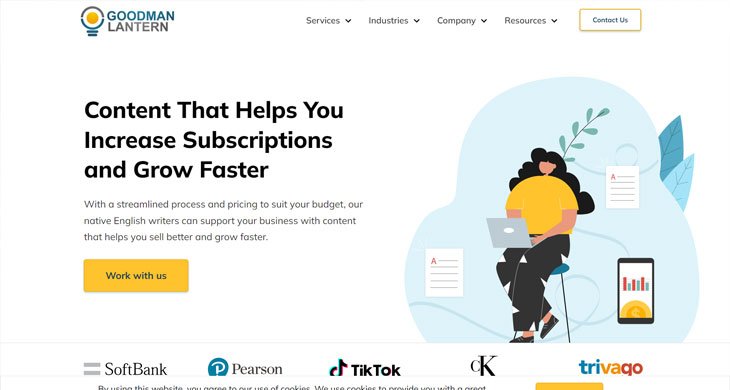 About the company:
Founded: 2014
Employees: 51-200
Contact: info@goodmanlantern.com
Website: http://www.goodmanlantern.com/
There are a few content writing firms that can provide voice-search optimised material. Das writing services in Kolkata deal with several high-profile companies, including Amex, Itc, Groww, and Icici Prudential. The firm has a client retention rate of over 85%. The team comprises 50 authors that provide full-service content for websites and blogs across 30+ verticals.
Main services include:
Article Writing, Technical Content Writing, Blog Writing, SEO, Content Writing, and Webpage writing.
About the company:
Founded: 2011
Employees: 50-201
Contact: admin@daswritingservices.com
reviews: 4.4 out of 5
Website: https://www.daswritingservices.com/
Content Writer is a collection of professional, experienced copywriters that are available to produce any type of writing. Their services include articles, website content, product descriptions, e-books, and more!
Each piece of work is formatted following current SEO trends and standards to successfully increase your Google ranking. Their copywriting service works in seven languages: Polish, English, German, Italian, French, and Spanish, as well as Russian and Ukrainian.
About the company:
Employees: 51-200
Contact: contact@contentwriter.pro
Website: https://contentwriter.pro/
They are unique because, founded in 2018, this content production business takes a comprehensive approach to demand development by combining strategic experience with artistic flair. Estorytellers, a parent company of Write Right, one of the world's highest-rated and verified content marketing businesses, prioritizes every client's deadline.
Main services include:
creative development, blog writing, SEO content writing, website online content, brand strategy, and event production.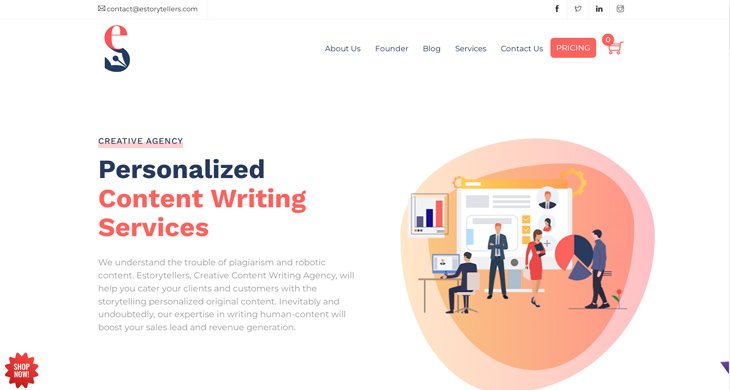 About the company:
Founded: 2018
Employees: 2–9
Contact: contact@estorytellers.com
reviews: 4.9 out of 5
Website: www.estorytellers.com/
Textworkers is an American-based, completely managed article writing service. We provide white label SEO material developed by in-house professionals. Textworkers is really not a marketplace for content. They have in-house authors who have been thoroughly verified. Each of their competent specialists has years of expertise and a track record of accomplishment.
They choose the most suitable writer for your needs, make sure your work is completely edited, and submit the finished product to your dashboard. Simply examine your material, suggest modifications, or approve it before downloading.
About the company:
Founded: 2008
Employees: 51-200
Contact: info@textworkers.com
Website: https://textworkers.com/
ContentGrow is a global regulated market and workflow platform for content teams. The technology automates several essential tasks that writers and content managers are often compelled to handle manually. In ContentGrow's digital ecosystem, authors are recruited, briefs are created, contributors are assigned, pitches are harvested at scale, quality control guardrails are imposed, and payments are processed. ContentGrow is employed by many essential media companies and marketing communications firms in the United States and Asia, with a global talent user base.
Main services include:
building briefs, assigning contributors, harvesting pitches at scale, imposing quality control guardrails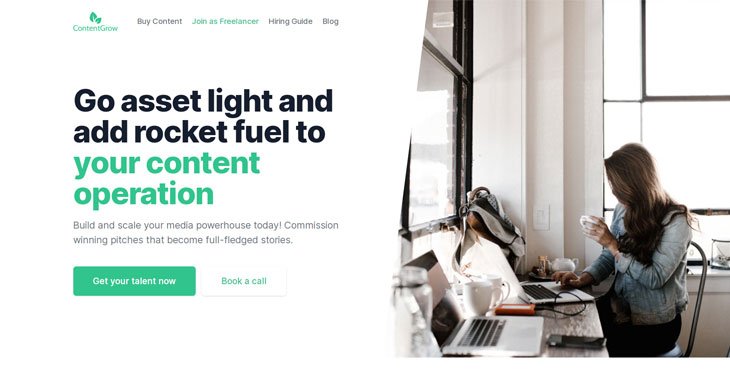 About the company:
Founded: 2019
Employees: 2-10
Website: https://www.contentgrow.com/
You may learn about article writing companies that work and employ words like none. For all sorts of content writing, we recommend Writeright, Bloggism, and Estorytellers. (No promotions)
So,
It is challenging to pick among so many content writing businesses. If you're seeking reputable content writing firms in India, to begin with, this list might assist you in identifying organizations that would be a suitable fit for your company.
From this post, you may have a solid understanding of the firms listed above and choose the best content marketing company. The top content writing services and agencies in these businesses are rated in terms of quality, dependability, and competence.
I hope my article was helpful.
Thank you!