You must be thinking what content marketing is, and some of the smarts one may even know a little bit about it.
Generally, people think content marketing is about Facebook, Blogs, YouTube videos and what not that helps in forming their social media presence.
Content Marketing has been around longer than we know and its definition and strategies have been changing with time as well.
WHY?
Well, everyone likes to hear a story, even you and when the storyline is interesting you sit tight and listen to all of it however long it may take. Content Marketing takes advantage of this only, a great attention- grabbing story that makes their client stop and think.
So here I am going to provide you with all the details of content marketing and tips that can help you grow your business online. 
What is Content Marketing?
"It is a strategic marketing approach which focuses on creating and distributing valuable, relevant and consistent content to attract and retain a clearly- defined audience and ultimately to drive it into profitable customer call for action."
Everyone likes to feel cared and loved now more than ever and so does your clients. In the World with so much hustle and bustle, attention has become the most important asset.
Your care and a solid storyline keep your customer engaged and loyal to your business.
A strong Content Marketing strategy helps you in long run and will always provide you with successful results.
Why Content Marketing?
Till nowyou got the idea of how important content marketing is to your business, now let's see why there is an urgency to use one.
Nowadays the traditional marketing strategies are getting outdated with every minute passing. Just because your previous marketing worked before it does not provide the confirmation of working again.
So, you have to keep updating your marketing strategies according to the change in the business world.
There are many ways of marketing like- Paid Ad, Blogging, Social media interaction and SEO. But some of them are overrated and some need your serious attention.
Look at this graph and figure out yourself-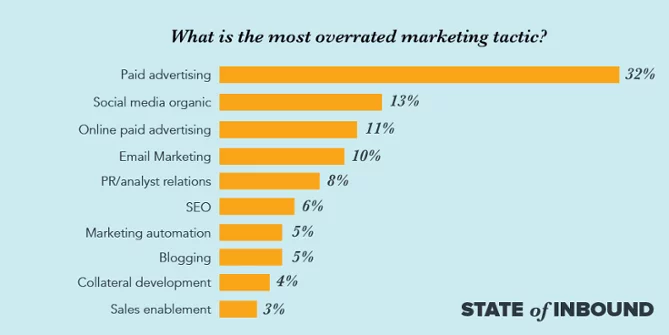 As you can see paid advertisement doesn't help your business at that large state but organic growth is what your business needs the more.
Tips to grow your online business
So, some of the steps that I am going to share for you to grow your business are organic and these are initial steps that are most important for a growing business.
Remember at the end of the day it all falls on you and how you are going to handle it. If you follow all the steps vigorously and with patience you will see a positive result in no time.
Try to always understand you audience and empathize with them too.
Step 1- Develop a plan
Before diving into the pool of marketing strategy you should be sure to check some basic groundwork like:
What's your business goal?
Who is your targeted audience?
What is your objective of content marketing?
How will you manage content creation?
How often are you going to publish your content?
What media platform will you use to distribute your content?
What type of content (Blog, Video, info graphic, podcast, post etc.) are you going to publish?
Is your content helping your audience and how is it helping?
These are some of the burning questions that need to be answered for a successful content marketing strategy.
By building up a plan you can develop some important marketing and business goals. Knowing when and where to knock gives your plan a successful execution and help you join with the people of your use.
Step 2- Create a Content Calendar
Time management is something that is always appreciated and never goes to waste. A content planner can provide you with that type of management and with some less worry about your content.
Once decided what type of content you are going to deliver you have to build a calendar for one- month in advance are even more.
The purpose of your content calendar is to stop content haphazard and allow you to be organized and on right track to developing content easily.
Step 3- Create original content  
Re- sharing memes and tweets is all cool but your audience wants to see your original content as well because that's what going to provide them clear perspective of your goal and how you are going to help them, as at the end of the day people tag along where they see some advantages.
Once you get into the rhythm of providing original content it re- defines your plan process and makes it easier for you to develop.
You can do some surveys or polls; people get excited when they are part of such things and you can get some idea from what is going to work best.
Step 4- Advertisement of Content
As of now you have narrowed down your client, planned the type of content your client desire for and have produced it as well, now it's time to share the content.
Your content planner is a guide to when and where you will drop the content bomb and you have to stick with it too. Fix a time for each month to publish certain post like blog, newsletter, email, YouTube video etc.
Having a fixed schedule will keep the team more focused and in rhythm. The clients also wait for your content as it has a fixed date and time, and who doesn't like punctuality, after all uncertainty is something we all run from.
Step 5- Measure Analysis
After all the content delivery now it's time you analyze how your content worked among the audience and client. Did your content strategy accomplish the goal? For doing so some of the apps come handy such as Google Analytics and Google Data Studio. These great tools can measure your content marketing and what didn't work out.
You can ask for feedbacks from your client about the new ad run or blog you posted. Social Media channels are also a great form to provide report and provide you with a comprehensive report.
Conclusion
These were some of the excellent Content Marketing TIPS that have emerged to be successful and help you to grow your business. Content Marketing is the most fast- moving sector and, in the future too it will keep growing!
You get to understand its importance even more when you start getting some positive response and results. The strategies become clearer with the improvement to see and how Search Engine Optimization is helping it even more.
The more content you post on your social media and website, the more is the chance of attracting the audience, keeping in mind the quality of the content is not compromised at any aspect.
Keeping your Patience and Persistence is the only key here, if you have in mind a long run of achievement it won't come to you overnight. Remember building a brand takes every ounce of your energy.
Just try to create excellent content and escape from the mediocre content creation.